10 August 2022
Added an additional 10Gbps capacity to BSO IP Transit interconnect
8 August 2022
Add DatabaseEngine resources to Brightbox REST API

Includes expose available engines: (MySQL and PostgreSQL).
Includes details of available versions.

Fixed API docs to use "Database Servers" instead of "Cloud SQL" or "SQL instances" to standardised terms. This changed some API operation names.
Added meta.databaseEngine field to our GraphQL API to expose available engines and versions without authentication.
1 August 2022
Released brightbox-cli v4.0.0

Improved support for two factor authentcation (2FA), automatically prompting without any configuration requirements.

brightbox login will work correctly if 2FA is enabled for your user.

Added support to specify Image --min-ram when creating or updating. This can be used to prevent creating a server without the required amount of RAM to boot successfully.
Improved release process including Rubygems Multi-Factor Authentication (MFA).
Added support for Ruby 3.1 and 3.2 to automated testing.
Support for older Rubies have been dropped. Ruby 2.5 is the earliest supported version.
Using fog-brightbox v1.7.0 with improved 2FA behaviour and fixed missing attributes.
Removed hypenated versions of sub-commands left for backward compatibility with earlier gems. Use brightbox servers instead of brightbox-servers.
Updates to several gems to fix deprecation warnings seen on supported Ruby versions.
Dozens of other tweaks and fixes.

Corrected API specification to remove some documented but non-existant attributes, firewall_rule.name and account.description.
Fixed a possible issue sending a support message.
28 July 2022
27 July 2022
Load balancers now support elliptic curve private keys.
Fixed a problem formatting extremely long names on invoices.
Added meta.serverTypes field to our GraphQL API to expose available server types and specs without authentication.
22 July 2022
New My IP Address convenience option for Cloud SQL access control rules in Control Panel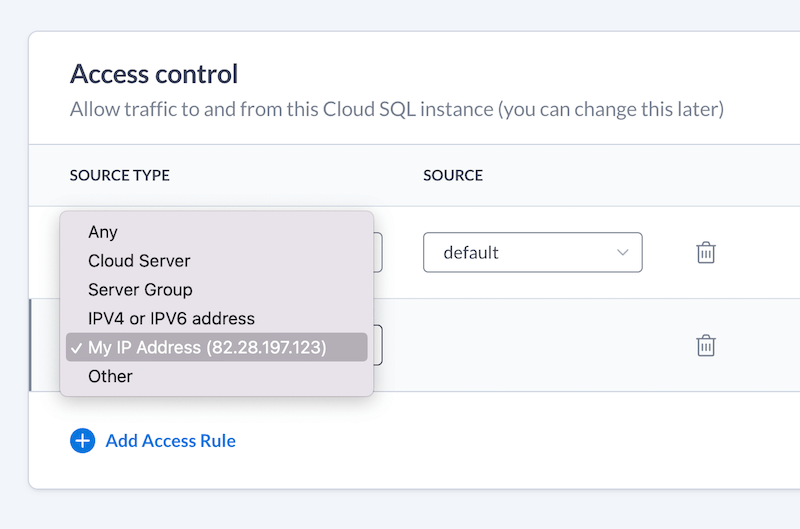 15 July 2022
13 July 2022
Our main phone number has changed to +44(0)113 347 4977.
6 July 2022
Cloud SQL backend infrastructure improvements which greatly increase Cloud SQL instance builds and future database engine version releases
Database engine version updates:

MySQL 5.6 removed
PostgreSQL 9.5 and 9.6 removed
PostgreSQL 13 and 14 added
27 June 2022
22 June 2022
20 April 2022
Added glue records to brightbox.com domain, reducing latency of all uncached DNS lookups.
5 April 2022
All our DNS servers now have IPv6 AAAA records.
1 December 2021
22 October 2021
7 October 2021